EO Sterilisation Technology
Built for Speed & Scale.
Ethylene Oxide (also known as EO or EtO) Sterilisation technology is a low temperature gaseous process that is used to sterilise a variety of healthcare products. Through the use of a vacuum-based process, EO sterilisation penetrates the surfaces of your products. Medistri's EO Sterilisation infrastructure is built to save you time and scale your business.
Simplify your operations.
Whether you are a start-up or a large established company, you can now track your products through the EtO sterilisation process and have a clear overview of when your products are ready to leave our facilities. Medistri can ship your sterile products directly to your customers or to your distribution centre.
You can integrate the sterilisation of your products into your existing operational workflow. This allows you to simplify your supply chain management and streamline your logistics.
Pick the technology that's right for you
Highly effective, the power of penetration of the gas allows to sterilise a wide range of medical, pharmaceutical and healthcare articles in their definitive packaging:
Pharmaceutical vials.
Temperature sensitive products.
Products with integrated-electronics.
Products with integrated batteries.
Polymer based products.
Implants.
Surgical Kits.
Single-use medical devices.
Drug-Device Combination products.
Modern Infrastructure
Medistri SA is equipped with 5 EO sterilisation chambers each with capacities up to 16 palettes. Our chambers have been engineered to allow you to sterilise loads up to 200cm of height, allowing you to maximise the size of your final production loads, and reduce costs.
Medistri can currently sterilise more than 73'000 palettes annually using its EO sterilisation infrastructure. And we're always working towards making this number larger.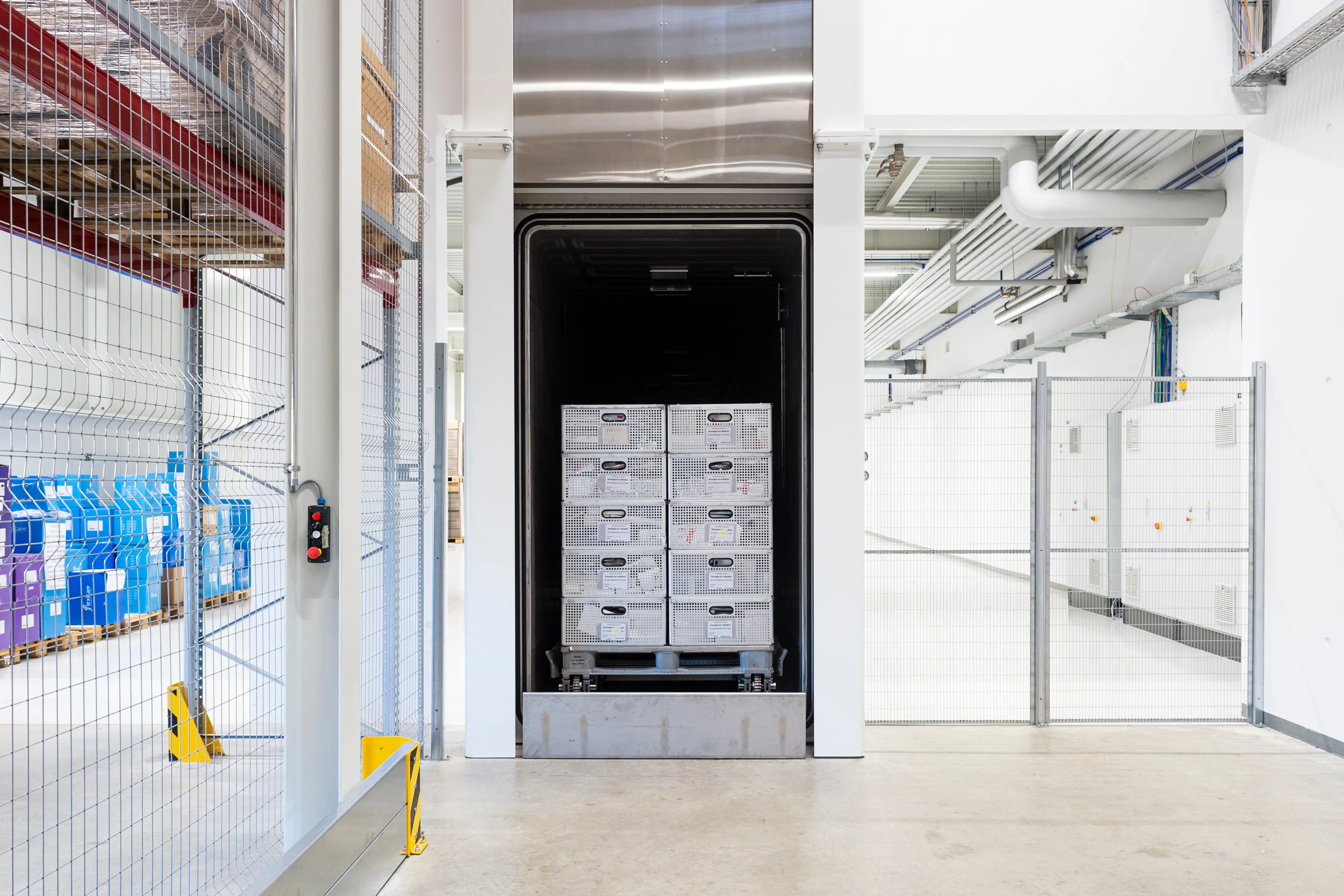 Intelligently Designed
The peculiarity of the sterilisation cycles at Medistri SA is to make all the phases of conditioning, sterilisation and desorption in the sterilisation unit in order to guarantee the integrity and the homogeneity of your sterilisation lot. The products that leave the chamber are ready to use.
Medistri's smarter & intelligently designed EO sterilisation cycles can be completed within 4 days from the arrival of your products at our facilities.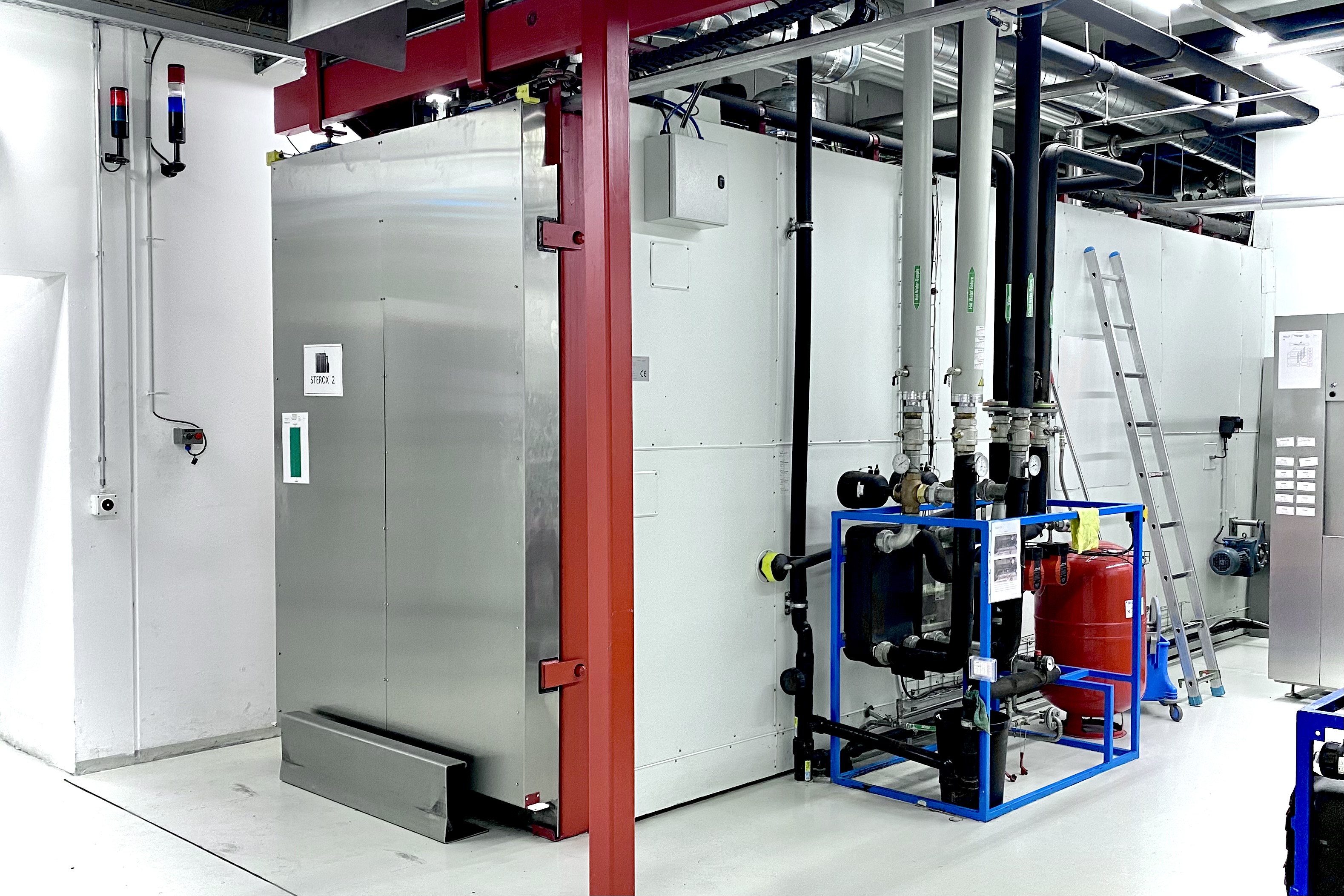 Achieving your environmental goals while helping you grow your business
Choosing forward-thinking, transparent companies in your supply chain is a crucial step in achieving your economic and environmental goals. That's why we've invested our resources in finding more modern systems, protocols and validation methods to reduce, optimise and eliminate ethylene oxide emissions.
While local and federal regulations are in place, we believe that even higher internal standards are needed to ensure the health and safety of our community and future generations.
EO Sterilisation for Pharmaceuticals
Pharmaceutical delivery and international requirements have evolved to better global patient health. Medistri understands that enhancing the aseptic manufacture sterility assurance level (SAL) of pharmaceuticals without affecting drug efficacy is a critical requirement of terminal sterilisation.
Pharmaceutical Vials
External sterilization of pre-filled syringes, or cartridges
Sterilization of bulk APIs
Sterilization of drug-device products
DNA removal
Learn more about the innovative healthcare companies using Medistri's EO Sterilisation Services ➝
Contact our team to visit our facilities and discover our advanced technology, dosimetry methods, and processing capabilities that make it possible for the world's most innovative pharmaceutical companies to ensure the safety and stability of your pharmaceutical and biologic products at scale, by using Medistri's pharmaceutical EO Sterilisation technology.
EO Sterilisation for Medical Devices
The gas sterilisation of materials covered with medicinal solutions does not lead to a decrease of their power or their efficiency.
The gas can be employed for the sterilization of human fabrics.
The gas also allows treating products for guaranteed applications 'HUMAN-DNA FREE'. The action of the gas destroys the DNA profile and assures the absence of downloadable profile on the treated products.
Are you ready to get started?
Contact us and our qualified team will respond.